Turnkey steel helps make your project successful
For nearly 30 years, we've helped GCs succeed by doing things differently.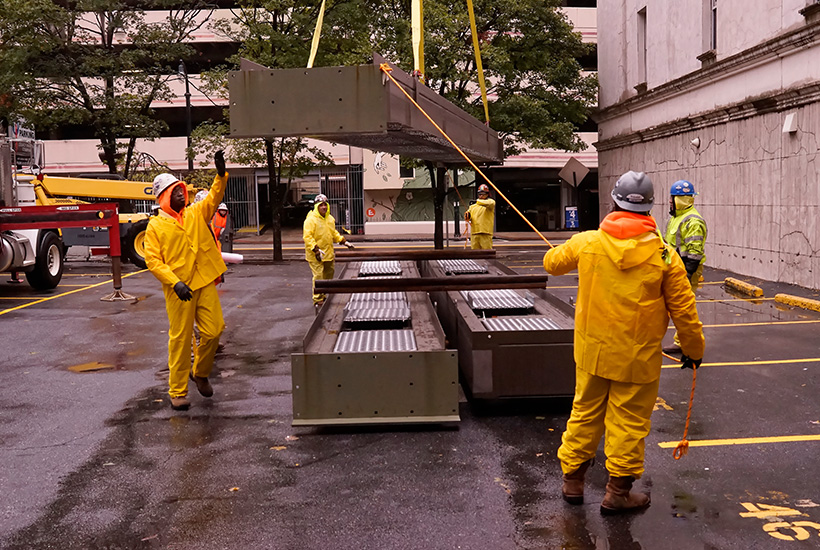 Your project should never be delayed by steel-related problems.
Since 1991, we've helped general contractors for commercial and industrial developments minimize project delays and budget overruns. As one of the only steel fabricators and erectors in the business, our team delivers streamlined fabricator-erector communication and unmatched expertise for projects with difficult steel requirements.
At Jonquil steel we fabricate and erect our own steel products.
The result? A smoother steel services experience, better control over costs, and on-time delivery for your project.
Kenneth Clark and Thomas Aikens founded Jonquil Steel in 1991, bringing 46 years of combined steel fabrication and erector experience to the industry. In our nearly 30 years of existence, we've provided steel services for higher education, hospitals, shopping centers, schools, office parks, and other developments across the Atlanta area.
Some of the projects you may recognize include:
Downtown Atlanta's Flatiron building
Equitable building
College Football Hall of Fame
Coca Cola Roxy
Emory University bridge
Grady Hospital
Swatch Watch, AT&T, and Coca-Cola buildings for the 1996 Olympic Games
Fast facts about Jonquil Steel
Based in metropolitan Atlanta
Steel fabricator and erector
Fully automated steel fabrication plant

Commercial and industrial steel services provider

AISC Certified Fabricator and AISC Advanced Certified Steel Erectors
American Welding Society Certified Welders

OSHA 30-hour foreman certified and 10-hour worker certified

Members of Associated General Contractors, Associated Building Contractors, and Better Business Bureau

Work obtained through bid system
Roughly 15% of bids negotiated
Yes, we fabricate and erect steel.
Most steel contractors do one or the other. For a GC, this means the company fabricating the steel and the company erecting the steel have to collaborate efficiently. Otherwise, orders will be wrong, delivery won't be on time, and key people might not be available when you need them.
Our model avoids all of those problems.
There's hardly ever any miscommunication between fabricators and erectors because we're part of the same team! Fabricators know what the erectors need. Erectors know what they'll receive from the fabricator.
When it's all said and done, you're more likely to deliver your project on time.
Most of the structural steel we purchase is recycled. In addition, over 99% of our scrap steel is recycled, and our fully-automated equipment allows for utilization of over 95% of steel fabricated.
Greg-Bowen
Project Manager
Chris Davis
Project Manager
PJ-Aikens
Safety Director/ Assistant Superintendent
Lynda-Wilson
Office Manager
Jodie Moody
Admin Coordinator / ACs Payable
Nancy Monahan
Accounting Specialist
Start using clean, quality steel.
Request a bid today! We'll respond with a quote for fabrication and erection services.